The Mission of the Franciscan Sisters of Mary is to be the presence of the loving, serving, compassionate, healing Jesus. Flowing from our Mission, we focus the power of our intention on compassionate care of Creation in collaboration with others.
As a Roman Catholic congregation of women religious, from our very beginnings, the Franciscan Sisters of Mary have been the face and hands and feet of Jesus to the poor and sick. Shortly after arriving on the St. Louis riverfront in November 1872, Mother Mary Odilia Berger and her five companions set out to nurse the sick of St. Louis. The Franciscan Sisters of Mary founded and sponsored SSM Health, providing hospitals and healthcare agencies across four Midwestern states. For many years, our sisters have been known for quality healthcare, education, and research. Our sisters have also ministered in areas as far off as Africa and South America.
As followers of Francis of Assisi, we care passionately about God's creation. Our hearts cry out for our sisters and brothers who are deprived of human dignity because of poverty, ignorance, injustice and destruction of our Common Home.
Leadership
Meet our current FSM Leadership Team.
Ways We Now Minister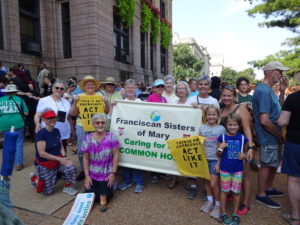 As our sisters have aged and our numbers dwindled, how we live out our Mission has also changed. We no longer staff hospitals and administrative offices, nursing classrooms and technology labs.
Today we are a small group of faith-filled women who have experienced a lot of life. We have a deep and growing appreciation for our ministry of presence.
The ways we minister today are no less important. A few of our sisters still serve in active ministry, providing spiritual direction, retreats, prison ministry, working with the poor in urban environments. Most, however, are no longer able to engage in active ministry.
We do our part as advocates and are blessed to support collaborators who share a similar vision and energy for countering the environmental injustices of our time. We are grateful for the wisdom and guidance Pope Francis shares in the encyclical Laudato Si', which motivates us to care for our common home and all our neighbors. Here are some of the ways we now live out our Mission and Focus.
Prayer. Through our intercessory prayer ministry, our sisters pray for and with those who request our prayers. We also live lives of contemplative prayer, holding in our hearts the needs of all people and all creation. Recognizing God's presence and Spirit in all that God has created, like St. Francis we acknowledge all creatures as sisters and brothers and strive to live in simplicity and gentleness, reflecting Jesus' compassionate care for all.
Presence. Even though most of us are no longer formally providing care, we strive to be present and attentive to others worldwide. Who we are as Franciscan Sisters of Mary involves being fully present, listening with our hearts as well as our ears and observing others on a deep level, respecting the needs of others as we respect our own.
Impact Investing and Philanthropy. We use our resources to support companies, organizations, and entrepreneurs who actively promote our Catholic and Franciscan values by

working to heal the environment and care for those most affected by climate change
promoting renewable energy, sustainable agriculture, forest conservation, and other initiatives to combat global warming and the destruction of earth's air, water, land, and inhabitants.

Socially Responsible Investing and Divesting from Fossil Fuel Production. We avoid profiting from companies that harm and destroy our environment, or that promote war, weapon production, abortion, and other activities that conflict with our Catholic, Franciscan values.
Advocating for Justice. Through prayer, vigils, letters, calls to elected officials and more, we advocate for peace and justice for those affected by violence, climate change, environmental degradation, and unjust policies.
"Continue Courageously"
For more than 145 years, Mother Odilia's encouragement to "Continue courageously" has inspired our sisters to meet our future with trust in God. We remain open to the Spirit's call to renewal, holding ourselves in readiness for the new ways the Spirit will find to reveal God's presence in and through each of us.