As we work for compassionate care of creation, we are committed to thoughtful advocacy in addition to our grantmaking, impact investing, prayer ministry and collaborations.
Climate Strikes
Our sisters stand in support of the young people around the world calling for action on climate. We contribute our prayers and presence to these local and global actions. As we continue to face the devastating effects of climate change in the news, like the worsening fires in the Amazon rainforest and the loss of glacial ice, we commit to advocating and acting for care of creation alongside fellow activists worldwide.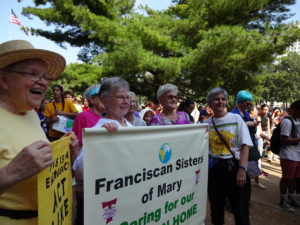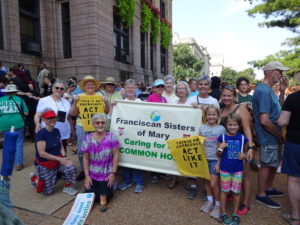 Standing With Sisters
FSM is part of a wider community of sisters which advocate on many issues central to our common identity as carriers of Christ's love.
FSM stands and speaks against violence in any form. We support peace through prayer and participation in nonviolence advocacy. Our sisters pray regularly for those affected by violence, including the victims of homicide and those individuals on the national execution list. Our sisters are active in greater body of the Leadership Conference of Women Religious, which recently wrote a letter calling for the President to cease all violent and hateful rhetoric.