We recognize our sisterhood among those of us who remain, and we remember our elders who first walked the path and marked the way.  We celebrate the journey that began 150 years ago with a handful of God-seekers, and we believe that we are a continuation of that journey, still being called to face the unknown.  May God always give us the grace to be our authentic selves so that we, too, will continue courageously into the future.  (Taken from November 16, 2022, Mass of Remembrance Reflection; an event of the 150th Heritage Anniversary)
On November 16, 2021, the Franciscan Sisters of Mary (FSM) began a year-long celebration honoring their 150th Heritage Anniversary. Mother Odilia Berger's arrival in St. Louis, MO, on that bitterly cold November day in 1872 marked the founding of the Sisters of St. Mary (SSM) and began a promise that the sisters who followed in her footsteps have strived faithfully to fulfill: "to be the presence of the loving, serving, compassionate, healing Jesus."
In early 1894, Mother Mary Augustine Giesen and six companions left St. Louis to establish a new congregation, the Sisters of St. Francis of Maryville (OSF), MO.  For many years the two congregations continued to grow along parallel lines; building hospitals and caring for those in need of healing.
For four years in the early 1980's, sisters of both the SSM and OSF congregations had social experiences together and attended community-sponsored events, workshops, and retreats to discern the possibility of becoming a single congregation.  In May 1985, sisters of both congregations decided to reunite.  The official reunification took place on August 2, 1987.  In October of that year, the reunited congregation became the Franciscan Sisters of Mary (FSM).
These have been 150 years of great blessing—certainly for the sisters, but even more for those who have known the grace of their presence. FSM has cared for the sick and the poor; developed cutting-edge technologies for healing; founded and directed hospitals and other healthcare facilities; established nursing schools; and pushed the boundaries in leadership and in setting standards for excellence. They have explored new, innovative ways to care for creation. FSM have been pioneers, listening to the guidance of the Spirit along the way.
This anniversary year was marked with several different events to honor their heritage:
June 23, 2022 – Mass at St. Alphonsus Liguori Rock Church with Archbishop Rozanski presiding.  A reception followed in the Parish Hall.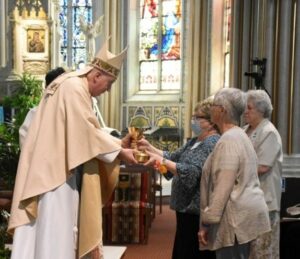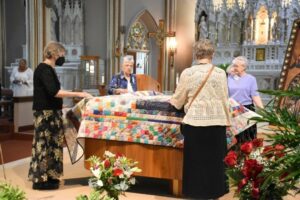 October 4, 2022 – Six local nonprofit organizations were selected to each receive a $25,000 Mission Award.  Each organization shares some aspects of our FSM Mission & Focus and/or serves a specific population that was dear to our foundress, Mother Mary Odilia Berger, and remains meaningful to us, her sisters.
Missouri Botanical Garden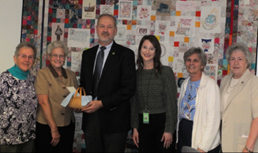 Peace and Justice and Racial Harmony Offices of the St. Louis Archdiocese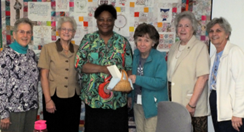 Bread Basket at SSM DePaul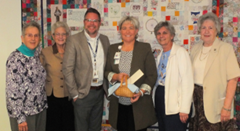 Almost Home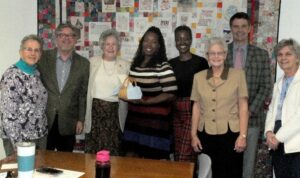 Franciscan Connection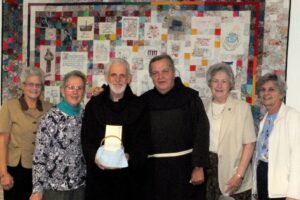 Keyway Center for Diversion and Reentry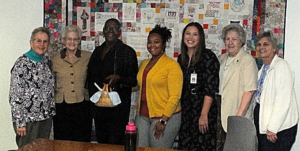 November 16, 2022 – Mass of Remembrance at The Sarah Community Chapel, followed by refreshments and a concert by Peter Hesed and Company.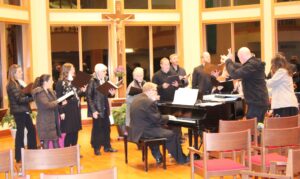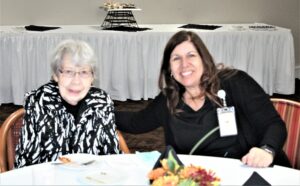 During this year of celebration, ads were placed in selected city and diocesan newspapers where our sisters have had a presence.  Cities where ads were placed, include:  St. Louis, MO, Southern Illinois (Mount Vernon and Centralia), Jefferson City, MO, Maryville, MO, Oklahoma City, OK, and Madison, WI.  Below is the ad that was placed in the St. Louis Post Dispatch.