Sr. Judy Bell, FSM Leadership, presented Donna Coble, executive director of Forest ReLeaf, with a contribution to support construction of the new pollinator garden at Forest ReLeaf's center in Creve Coeur Park in St. Louis County.
The FSM gift celebrates the 25th anniversary of Forest ReLeaf of Missouri. Donna Coble and Forestry Programs Manager Scott Francis were on hand to give the sisters an update on the group's programs and efforts, which include camps for young foresters, a prairie restoration project, orienteering classes, and providing native Missouri trees of many sizes to help with reforestation—especially in the light of the emerald ash borer infestation in Missouri.
On Friday afternoon, February 2, the Franciscan Sisters of Mary hosted the reception in appreciation for five local collaborators in the FSM Focus on compassionate care of creation. Besides Forest ReLeaf, representatives were on hand from St. Louis Earth Day, Missouri Coalition for the Environment, Gateway Greening, and Incarnate Word Foundation. Each group provided the sisters with an update on their efforts to promote conservation, renewable energy, efforts for sustainable food production and distribution, clean air and water, and provision of shelter, food, and care for poor people in the metropolitan area.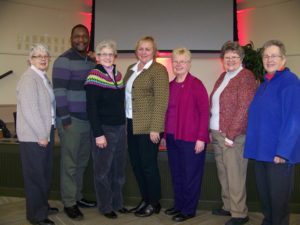 The FSM Focus Implementation Group, comprised of Srs. Marge O'Gorman, Sherri Coleman, Irma Kennebeck, Jeanne Derer, and Sandy Schwartz, coordinate and direct specific way the Franciscan Sisters of Mary can live out the Focus of compassionate care of creation. They planned and carried out the appreciation event, which was part of the FSM February 2018 work session.
The FSM are grateful for all our collaborators in caring for creation!