On January 25, 2019, the Franciscan Sisters of Mary were honored with Gateway Center for Giving's Excellence in Innovation Award "for its commitment to impact investments that generate positive environmental and social benefits and align with the organization's values."
John O'Shaughnessy, FSM CEO/CFO, accepted the award on behalf of the congregation.
Also present at the celebration were Srs. Judy Bell, Fran Haarmann, Kathy Buchheit, Sherri Coleman, Jeanne Derer, Irma Kennebeck, and Sandy Schwartz, and FSM program director Ryan Strode and program associate Katie Balfany. Jake Barnett, FSM's institutional consultant at Graystone Consulting, attended as well.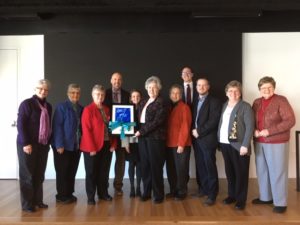 The Excellence in Innovation in Philanthropy Award "recognizes a grantmaking organization that has put significant support behind an unproven initiative or project that has the potential to yield great community outcomes, or has engaged in innovative investing strategies."
Gateway Center for Giving honored FSM for leadership in impact investing, which generates great environmental and social benefits, in addition to financial returns. Likewise, they praised FSM for its philanthropy, which supports building a local healthy and sustainably-produced food system. They also recognized FSM for its commitment to encouraging other organizations to align their investing with their vision, and FSM's willingness to share strategies and expertise to make this approach more accessible to others, particularly through the Catholic Impact Investing Collaborative (CIIC), launched in 2014.
The Gateway Center for Giving, which will celebrate its 50th year in 2020, helps grantmakers be more strategic with their philanthropy to foster a stronger community. "We enable donors to learn, connect, and act with impact." FSM is a member of the Gateway Center for Giving.
FSM is grateful to Gateway Center for Giving for its commitment to our region and for its recognition of FSM's efforts.