The contents of the time capsule from the former FSM Motherhouse, St. Mary of the Angels Convent, were revealed in a special ceremony in the lobby of SSM St. Mary's Health Center in Richmond Heights on May 8, 2018.
Post reporter and columnist Joe Holleman shared the discoveries in "Time Capsule at Old St. Mary's Hospital Reveals 90-Year-Old Memories."
The time capsule, sealed within the convent's cornerstone that was laid in the afternoon of Sunday, December 9, 1928, was filled to the brim with mementos from the era.
Besides photos, a list of the congregation's sisters, medals, prayer cards, and other small pieces were a number of current publications. One of the most amazing items was an entire copy of the December 9, 1928, 50th Anniversary issue of the St. Louis Post Dispatch, which had 20 sections and ran close to 250 pages.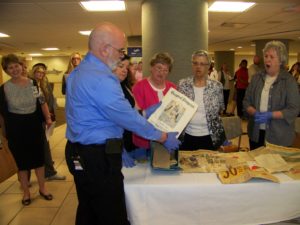 The tight packing of the 8-inch-by 8-inch-by-14-inch copper vault and the lead seal helped preserve most of the items in excellent condition. The 90-year-old newspapers maintained their bright colors and clear printing.
The contents of the time capsule will be maintained at the FSM Archives at the present time.